Whether you are a business or an individual looking to fix your computer, you can trust us to take care of all your needs. We understand that computers make our lives and business much easier and when they are not working correctly, it can become a bit of hassle. Our aim is to offer outstanding services straight to your home or to your office to repair or troubleshoot your computer.
Our expert technicians will pay attention to your needs and offer you the best solutions and advice on keeping your computer running smoothly.  We are even able to build a custom system to suit your needs.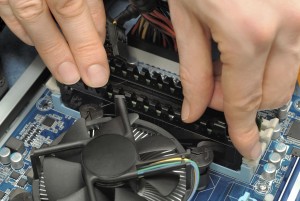 Fast Expert Computer Repair in Biloxi and San Antonio
Looking for your best local Mac or PC repair expert? Rogers Technology Solutions repairs slow, virus-ridden operating systems, recovers your precious data, and solves all your frustrating computer problems.
We Fix All Major Laptop and Desktop Computer Brands
✓ MacBook
✓ Dell
✓ Acer
✓ Chromebook
✓ HP
✓ Asus
✓ Lenovo
✓ Samsung
5 Reasons to Choose Rogers Technology Solutions for Mac and PC Repairs
Great Prices
Fast Service
Guaranteed Warranties
Quality Parts
Thousands of Satisfied Customers
Has your computer slowed down to a frustrating snail's pace, or do you keep experiencing the dreaded blue screen of death? Rogers Technology Solutions' expert team of computer technicians have years of diagnosing and repairing computer issues and can help you to fix your broken computer the easy way. Whether you've got a desktop gaming rig or are you're rocking a Mac, Chromebook, Acer, Dell, or any other major computer brand in North America, we carry out all our  computer repair services with specialist tools and OEM or high quality aftermarket products backed by a warranty.
Rogers Technology Solutions Handles All Common Broken Computer Issues
PC and Mac Broken Screen Repairs: If your laptop has taken a spill and the screen is cracked, we can find and replace your screen and LCD with a new one fast
PC and Mac Hardware Repairs: Something not quite right with your computer? Rogers Technology Solutions technicians can open up your desktop or laptop to diagnose and fix your broken hardware problem
PC and Mac Data Recovery: Rogers Technology Solutions can help you to recover and preserve precious photos, videos, documents, and memories with emergency laptop and desktop data recovery and restoration
PC and Mac Hard Drive and RAM Upgrades: Get more storage for your multimedia files and boost your computer's speed and performance with Rogers Technology Solutions' fast hard drive and RAM installation service
PC and Mac Virus, Malware, and Spyware Removal: Remove dangerous viruses, malware, and spyware from your computer to speed up performance and protect yourself from hackers
PC and Mac Computer Setup: Get your new desktop or laptop computer set up for optimal performance and protection against malware, adware, and spyware
Rogers Technology Solutions Is The First Choice for Fast Computer Repair
We've helped customers to fix their Chromebooks, MacBooks, Dell Inspirons, Acer laptops and more for a whole host of troublesome computer gremlins with a fast and friendly customer service that's unbeaten in the local area.